ICND2 – Switch Stacking & Chassis Aggregation
Question 1

Explanation
Switch stacking technology allows the network engineer to make that stack of physical switches act like one switch. The stacking cables together make a ring between the switches. That is, the switches connect in series, with the last switch connecting again to the first.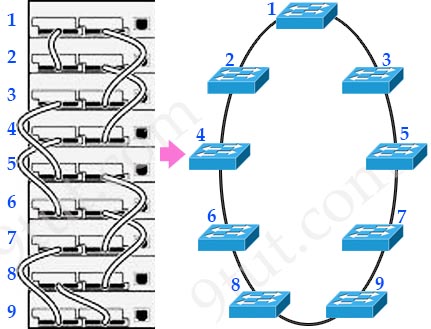 Answer B is not correct as switch stacking is about connecting switches together so that they act as one switch, not about adding and removing hosts.
Answer C is not correct because switch stacking has nothing to do with performance of high-needs applications.
Surely switch stacking provides redundancy as stacking creates a ring of connection with two opposite paths. Whenever a frame is ready for transmission onto the path, a calculation is made to see which path has the most available bandwidth. The entire frame is then copied onto this half of the path.
With switch stacking, STP, CDP and VTP would run on one switch, not multiple switches. Also there would be one MAC address table, and it would reference all ports on all physical switches so we may say switch stacking has better resource usage. Also if we consider all stacking switches as one logical switch then surely the port density is increase very much. Therefore answer D is the most suitable one.
Reference: http://www.cisco.com/c/en/us/products/collateral/switches/catalyst-3750-series-switches/prod_white_paper09186a00801b096a.html