EIGRP Troubleshooting Sim
Topology:
Question 1
Explanation
On R4 we see EIGRP is configured with AS 2 (router eigrp 2) while other routers are using AS 1 (router eigrp 1). Therefore R4 cannot see other routers and vice versa.
Question 2
Explanation
For this question we have to check the routing table of R1 to find out the answer. Use the "show ip route" command on R1 we will get something like this: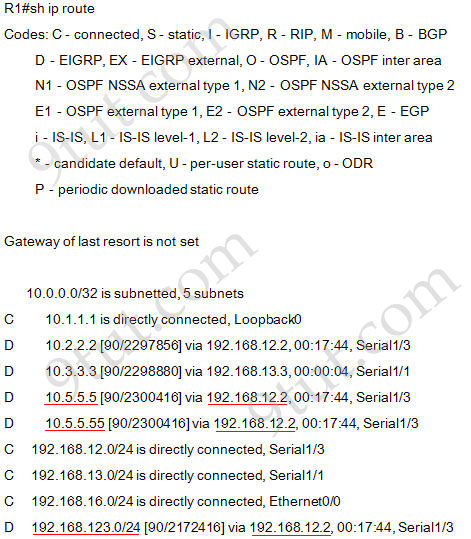 There are three interfaces on R5 which are Loopback0: 10.5.5.5 ; Loopback1: 10.5.5.55; Ethernet0/0: 192.168.123.5 and all of them are advertised via 192.168.12.2 so we can conclude traffic from R1 to R5 goes through R2 (192.168.12.2 is the IP address of S2/1 interface of R2).
Note: Maybe there is another version of this question in the exam in which the answer should be "The traffic is equally load-balanced over R2 and R3". Therefore please check the "show ip route" output carefully to see if there are more than one route to the destination.
Question 3
Explanation
From the configuration of R6 we learn that R6 is missing "network 192.168.16.0" command (the network between R1 & R6) under EIGRP so EIGRP neighbor relationship will not be formed between them.
Note: Please check the configuration of R6 carefully. If the "network 192.168.16.0" is not missing on R6 but the "metric weights" is configured like this:
R6:
router eigrp  1
 network 10.6.6.6 0.0.0.0
 network 192.168.16.0
 metric weights 0 0 0 1 1 1
Then you should check if R1 has the same "metric weights" or not. If not then the answer should be "K values are mismatched".
For your information, EIGRP K values are the scale numbers that EIGRP uses in metric calculation . Mismatched K values can prevent neighbor relationships from being established. The syntax of "metric weights" command is:
metric weights tos k1 k2 k3 k4 k5 (with tos is the type of service and must always be zero)
Question 4
Explanation
R1 does not advertise its loopback 0 (10.1.1.1) to EIGRP therefore a ping to destination 10.5.5.55 (R5) from 10.1.1.1 will not be successful because R5 does not know how to reply to R1.